Well
,
let's
just say Rio was interesting. To say I'm utterly confused would be an understatement. I met my coach at the base of Jesus with ropes in hand. I even had some more refined climbing gear in an attempt to impress him with my commitment and readiness for the next challenge. Instead, he scoffed at my efforts and muttered something about my ongoing disappointment and how he "expects more". He cast my ropes aside and produced what appeared some type of costume. Here's the result of my time in Rio. My appearance has changed somewhat due to the makeup, etc. What this has to do with cycling, I guess I'll know at the end of my training...
That's me in full Samba regalia and training.
Next, I met "him", my coach on a red clay runway somewhere in South Africa. I'll admit that I was excited, but nervous as Rio perplexed me. Then, suddenly and without warning a convoy of Black Suburbans pulled up. The first stopped near us and unloaded what appeared to be two primitive bicycles. "YES!" I thought, finally some riding. To my amazement a 93 year old Nelson Mandela emerged from the third vehicle with handlers attending to his every need. He donned a South African national team kit, with a 100 oz. hydration system slung low across his back. "Greetings, you must be Eki", he said with a hand thrust forward. Unsure what to do, I replied, "At your service your Eminence", I gently shook the hand of the formally falsely imprisoned visionary. Mr. Mandela then took a long pull from the hose at his chest, slung a leg over the top tube of what appeared to be a 1941 single speed Hawthorne. A similar bike to Nelson's is pictured here: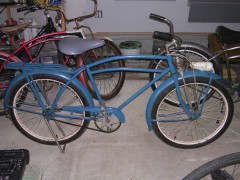 He simply said, "LET'S DO THIS THING" and he slowly pedaled toward the sinking sun. I mounted my rig and followed. I now train with Nelson Mandela. What to discuss, heart rates, apartheid...?
More to come...